Archive for January, 2005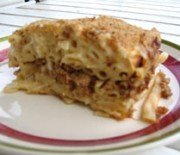 A friend of Greek-Recipe.com posts the following recipe.
This is a recipe passed on from my grandmother. I am the only relative who has learnt how to make it and her pasticio is the best!
I am putting it on this website in hope that others will make it and her recipe will live on.