Archive for September, 2005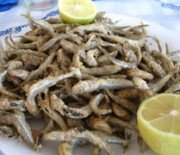 Alevin is small fish that we use to eat in Greece as an appetizer. This fish is so small that does not need cleaning at all, you just eat it as a whole with its head and bone. In Greece this dish is usually served as an appetizer.
Submitted by Stephen McDermott
mcdermott_s@yahoo.co.uk
Preparation time about 10 minutes
Cooking time about 2 hours
This is a nice meze, which usually accompanies pulses like lentils and bean soup. 1 kilo of fresh tomatoes yields
approx. 100 grams of sun – dried tomatoes.