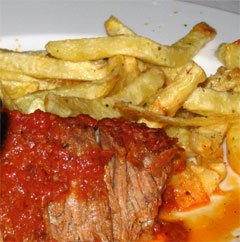 Beef with red sauce
Directions
Chop the beef into six symmetrical pieces.
In a medium sized saucepan add in the margarine and melt until it becomes hot, being careful not to burn it.
Add in the beef and cook coating the beef in the margarine until the meat has become sealed, this is when the meat has gained a nice brown color
Add salt and pepper.
Prepare the tomatoes by grating them into a bowl, then add to the meat.
Stir them well and add 300g of warm water.
Leave to cook on a low heat for about 2 hours until when the sauce has reduce and become nice and thick.
Serve with wild rice or mashed potatoes and fried aubergines or fried potatoes. The meat can be cooked for this recipe without chopping into portions but it must be tied with string and left to cool after cooking then chopped into slices.
Ingredients
1 ¼ kg beef (thigh)
500g ripe tomatoes
150g margarine
Salt and pepper