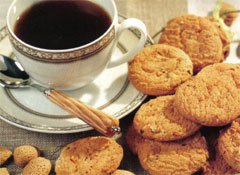 Greek Easter Cookies from Smyrna
Directions
Sift together flour and baking powder and set aside.
In 

large bowl, cream together butter and sugar.

Add 4 egg yolks one at a time, beating well after each one.
Add milk and flour.
Work with the hands until dough is smooth.
Add grated orange 

rind.

Dough should be stiff so add additional flour if needed.
Break off small portions of dough and roll out into 

pencil-size strips about 11 inches long. Fold each 

strip into thirds, 

sideways, and press lightly together at ends.

Place cookies on ungreased baking sheet. Brush tops with 

beaten egg.

Bake at 350 degrees F (175 degrees C) for 18 to 

20 minutes.
Ingredients
2 cups butter
1 1/2 cups white sugar
4 egg yolks
1/2 cup milk or orange juice
8 cups sifted all-purpose flour
2 teaspoons baking powder
1 tablespoon grated orange rind
1 egg