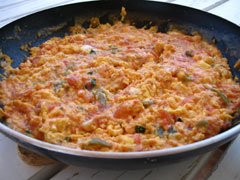 Omelet with Fresh Tomatoes
Directions
Heat the olive oil in a large frying pan and add the peeled and chopped tomatoes and the herbs.
Stir a little and let them cook gently for 5-8 minutes until all the liquid evaporates.
Stir in some seasoning and the sugar and add the seasoned beaten eggs, pouring them evenly all over the tomatoes.
Stir gently with a fork and cook slowly for 3-4 minutes until the eggs are cooked but not too solid.
Ingredients
3 tablespoons olive oil
450 gr. ripe tomatoes, peeled and chopped
1 teaspoon oregano, thyme or basil
salt and black pepper
pinch sugar
4 eggs, beaten a little with a fork