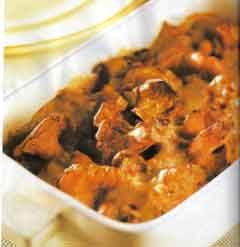 Baked rabbit with mushrooms
Directions
Marinate the rabbit pieces and the mushrooms in olive oil.
Add salt and pepper and put in fridge for an hour.
Place them in a baking pan and bake in 180 C for 40 – 50 minutes.
Prepare the sauce as follows: Heat olive oil and add flour.
Pour gradually the milk and stir constantly until the sauce starts to thicken.
Do not let the sauce get to thick. When it starts to thicken remove from heat and add salt, pepper, parmesan cheese and nutmeg.
When the rabbit gets ready serve in plates together with mushrooms and pour over spoons of sauce.
Ingredients
1 rabbit, around 1,5 kg, cut in servings
1 cup mushrooms, washed and cut in medium size pieces
1 cup olive oil
Salt
Pepper
Sauce
Ingredients
3 spoons olive oil
2 spoons flour
1,5 glass of fresh – lukewarm milk
1 cup parmezan cheese, finely grated
Salt
Pepper
Nutmeg