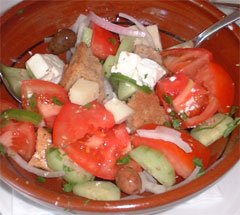 Summer Salad from Vafios Lesvos
Directions
Place all ingredients in a bowl. The rusks should be placed into the bottom of the bowl, in order to be soaked in olive oil and soften. Feta, kefalotyri cheese, parsley and olives should be better at the top of the salad.
Pour olive oil over the salad.
Note: The portion of each ingredient is your choice. Try to keep a balance between all ingredients.
Ingredients
Fresh tomatoes, cleaned and cut in slices
Cucumber, washed and cut in slices (keep them unpeeled)
Green pepper,cut in stripes
Parsley
Feta cheese, cut in small cubes
Kefalotyri cheese, cut in small cubes
Onion, sliced
Pieces of rusks
Olive oil
Salt
Olives