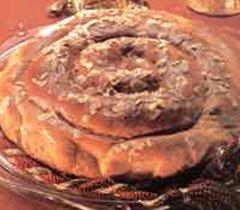 New Year's Eve Cake (St Basil's)
Directions
Dissolve the yeast with a little sugar in the warm milk. Wait until it is activated and starts to bubble at the surface, then add 3 tablespoons flour and mix well to make a batter. Cover it with a clean tea towel and keep in a warm place for about 1 hour or until it rises.
In the meantime, sift the rest of the flour with the salt in a large bowl, add the melted butter, the 7 eggs, the rest of the sugar, and the grated rinds.
Add the risen yeast mixture to it, and knead it in order to amalgamate all the ingredients like a bread dough. It should be rather firm but elastic by now.
Cover it again and put in a warm place for about 1.5 hours, until it rises and doubles in size.
Butter a large round cake tin, about 26-28 cm, and line the bottom and sides with greaseproof paper, which you should also butter to avoid sticking.
When the mixture has doubled its size, knead it again to break it down, keep a piece for decorating the top of the cake, and pour the rest into the cake tin.
Insert a coin.
Make sure the mixture only comes halfway up the sides, so that it has space to rise.
Cover and let it stand in a warm place until it again doubles in size.
Brush its surface with the beaten egg yolk and decorate, either by using the reserved dough to write the numbers of the new year in the middle of the cake, or by making a few rosettes, or by simply sprinkling the almonds and sesame all over.
You could make a few nominal cuts using scissors.
Bake in a pre-heated oven, gas no. 4/ 350 grades F/ 180 grades C, for about 1 hour until the top looks golden.
Let it cool and shrink slightly, then unmould and remove the greaseproof paper.
Aka Vasilopita in Greek
Ingredients
25 gr. fresh yeast
200 gr. caster sugar
150 ml warm milk
1 kg plain flour
0.5 teaspoon salt
230 gr. butter, melted
7 eggs
1 tablespoon each grated orange and lemon rind
1 egg yolk beaten with 1 tablespoon water
100 gr. flaked almonds
30 gr. raw sesame