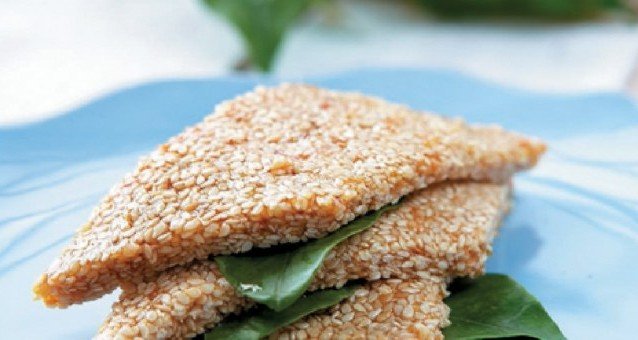 Pasteli Androu (Source: www.foodbites.eu)
Directions
Mix walnuts and crumbs.
Put honey and sugar in a small heavy sauce pan and boil to 250-256F.
Remove from heat and add to walnut mixture.
Moisten a marble slab or a tray with orange flower water, cover with sesame seeds and spread mixture with a spatula to 1/2 inch thickness.
Dip your hands in orange flower water and press mixture flat. Sprinkle with sesame seeds and leave for two hours.
Cut into diamond shapes and place each on an orange leaf. Keep covered in refrigerator.
Ingredients
4 cups coarsely chopped walnuts
1/2 cup toast chumbs
1 1/3 cups honey
1 cup sugar
Orange flower water
Sesame seeds
Orange tree leaves