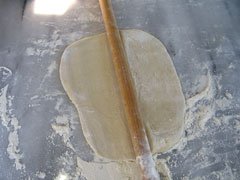 Traditional Filo dough for pies
Directions
In a bowl add the water, drops of vinegar and the olive oil. Add 1 teaspoon salt and the flour.
Work the mixture well as much as it needs to become tight. If it requires more water and flour add in order for the dough to become as thick as it needs.
Cover the dough with a plate and leave it for half an hour before it is used.
Ingredients
1 teacup water
Vinegar
salt
2 teacups soft flour
1 teacup self raising flour
1 teacup olive oil