Post Tagged with: "Olive"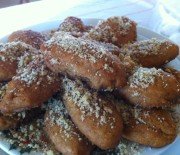 Author's note: These cakes are traditionally served at Christmas.
This recipe comes from my neighbor, Andonia. I have a distinct
memory of her beating the oil and sugar into the flour until it
dissolved using her middle finger and forefinger as a beater –
though a spoon will do.