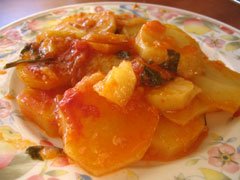 Stewed potatoes with tomato sauce
Directions
Peel the tomatoes and cut them in small pieces. Peel and cut the potatoes in thin slices. Chop the onions and crush the garlic cloves.
In a saucepan pour the olive oil and place the chopped onions, the garlic, the tomatoes (or empty the tin if one is used) and finally the potatoes.
Stir well and add salt and pepper. Cook for 30 minutes or until the potatoes are tender enough. If any extra water is required add appropriate portion. The tomato sauce should be thick and oily when potatoes are ready and no water should remain in the saucepan.
Let cool and serve.
Ingredients
1 kg potatoes
2 onions
2 garlic cloves
4 fresh tomatoes (or 1 tin)
1/2 tea cup olive oil
salt
pepper