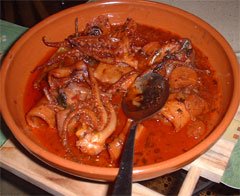 Squids in wine and tomato sauce
Directions
Rinse the squids. Clean them (remove backbone and eyes). Separate the tentacles from the main body.
Saute the onions in oil. Then add squids and saute for a couple of minutes.
Pour the wine and add the pepper, tomato paste and the tomato and cook until squids are tender. Add some water if more is required. The remaining sauce should be thick and oily.
Ingredients
1 kg squid
2 – 3 onions
200 ml red wine
1 tspn tomato paste
1 fresh tomato, peeled and cut in small pieces
100 ml oil
Pepper