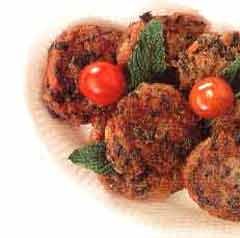 Spinach balls
Directions
Rinse the spinach and chop it finely.
Cut the onions and the dill finely.
Place them in a bowl together with the spinach.
Beat the eggs and add them with the flour and the cheese into the bowl.
Season with salt and pepper.
Mix well and mould the mixture in order to make a thick dough.
Shape the mixture into balls of medium size and fry them in both sides until golden brown.
Ingredients
1 kg spinach, lightly boiled and well strained
4 spring onions
Dill
4 eggs
8-10 spoons flour
3 spoons kefalotyri cheese
Salt
Pepper