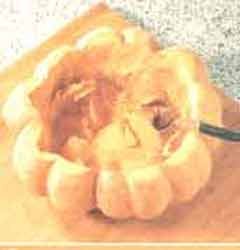 Salad with pumpkin
Directions
Slice the top of the pumpkin and remove the interior with a spoon.
Turn it up side down and let it drain.
Boil 2 cups of the interior parts of the pumpkin and cut them in small cubes.
In a bowl, mix the pumpkin cubes with the rest of the ingredients.
Mix together all the dressing ingredients.
Place the salad into the pumpkin and pour the dressing on top.
Ingredients
1 pumpkin
150 gr peas from a tin (or 150 gr fresh boiled peas)
2 tins corn (or the equivalent of fresh corn)
1 cup ham, cut in slices and slightly sauted
Dressing:
Ingredients
1/2 cup olive oil
3 spoons vinegar
2 spoons lemon juice
1 spoon brown sugar, dissolved in 2 spoons water
1/2 cup parsley, finely chopped
Salt
Pepper