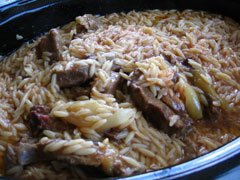 Roast Meat with Pasta and Tomatoes
Directions
Rinse the meat and place it in a large roasting dish.
If using a whole leg of lamb, make 3-4 deep slits with a small sharp knife and insert a piece of garlic into each one. Scatter the remaining garlic around the meat.
Pour the olive oil and the tomatoes over the meat, then add the seasoning and the oregano.
Pour the water into the dish. Place in a pre-heated oven, gas no.7 /425 grades F/ 220 grades C), and cook it for 50 minutes, basting from time to time, and turning the portions over. (If cooking a whole leg, just baste it a couple of times and, after 50 minutes, turn it over.)
After 50 minutes, pour 600 more boiling water into the dish and add the pasta, together with more seasoning.
Turn the oven down to gas no.6/ 400 grades F/ 200 grades C and bake for a further 40 minutes, stirring occasionally, until the pasta is cooked to your taste. Keep testing it to catch it at the right time. If needed, add a little more hot water.
Serve immediately sprinkled with the cheese.
If using beef for this recipe, it would need to be cooked longer initially and with more water, until tender, before the pastry is added to the dish.
Ingredients
1 leg of lamb or a shoulder about 2 kg, or 2 kg beef, boned, trimmed of fat
and sliced into large serving portions
4 cloves garlic, peeled and
halved
1400 gr. can tomatoes, or 500 gr. ripe tomatoes finely chopped
5 tablespoons olive oil
1 tablespoon dried oregano
150 ml hot water
salt and black pepper
400 grams orzo (small tear-shaped pasta) – the greek kritharaki – , or spaghetti broken in little
100 gr. grated Parmesan or Greek kefalotiri cheese