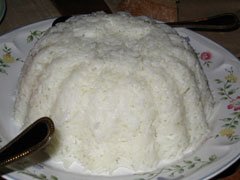 Rice pilaf
Directions
Heat butter in a saucepan. Add rice and stir well. Simmer until rice becomes golden. Add water or broth and cover. Simmer for 20 minutes.
When rice is ready slightly stir with a fork and place in a form. Empty the form in a platter and dredge rice with grated cheese.
Alternatively you can mix it with tomato sauce or yogurt.
Ingredients
1/2 cup butter
2 cups american rice
4 cups heated water (use chicken or meat broth for more taste)
2 tspns salt
Grated chicken for dredging over the rice