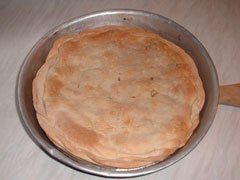 Minced Meat Pie
Directions
Heat half the butter in a pan and saute one finely diced onion. Add the minced meat, salt and pepper, the cinnamon, two teacups water and cook until all the water is gone.
Quarter the remaining onions and boil them in broth (or in water containing the bones of the meat) in another pot. When the onions are done, take them out and puree them. Strain the broth and keep only two teacups of it.
Prepare a cream with the milk, the semolina and the broth.
When this cream is cold enough, add the pureed onions, the beaten eggs, the remaining butter, the cinnamon, salt and pepper.
Brush the bottom and sides of a pan with butter and line it with half the sheets of filo pastry, brushing each one with melted butter.
Spread the minced meat evenly and pour the cream mixture over it.
Cover with the remaining sheets of filo pastry, brushing each one with butter, particularly the top one.
Bake the pie in a medium oven, until its top starts to turn pale golden.
Ingredients
1¬? Kg (3lbs 6 oz) minced meat (lamb or beef)
1 Kg (2lbs 4 oz) onions
5 tablespoons butter
10 eggs lightly beaten
1 teacup milk
2 teacups semolina
salt- pepper
cinnamon
1 Kg (2lbs 4 oz) "filo" pastry