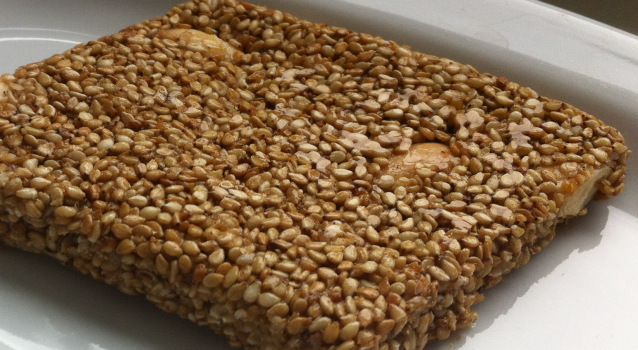 Melekouni
Directions
Clean the sesame and brown it .
Flail it lightly in a mortar or in a blender.
Boil the honey until it loses its humidity and starts to become solid and stir it well with all the other ingredients.
Clean and wet a surface, spread the mixture of honey while it is still soft and warm.
Press one by one all the almonds on its surface so that they become one with it and then let it get cold.
When it is cold we cut it in lozenge.
Source: ΜΕΛΙΣΣΟΚΟΜΙΚΗ ΔΩΔΕΚΑΝΗΣΟΥ
Ingredients
700 gr honey
kg sesame
½ t-spoon of cinnamon
½ t-spoon nutmeg
scrap of 1 orange (or bergamot)
100 grams almonds whitened