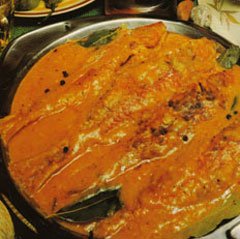 Marinated red mullet
Directions
Fry the fish as in the Fried red mullet recipe. Prepare the sauce as following: Heat a cup of olive oil, add
some flour and stir. Add the wine, a little vinegar, salt and pepper and a small bunch of rosemary. Pour the sauce
over the fried fish and serve.
Ingredients
1 kg red mullet
1 cup of olive oil
A tumbler of white dry wine
Vinegar
Salt
Pepper
Flour
Some rosemary