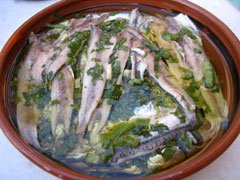 Marinated little fish (2)
Directions
Wash fish and spread plenty of thick salt over them. Let them burn in salt for 24 hours.
The next day wash them with plenty of water to remove salt. Then remove heads and central bone by removing the head.
Lay the fish fillets on a small bowl.
Prepare a marinade by mixing oil, garlic cloves, vinegar and parsley. Pour marinade over the fish fillets and place them in the fridge.
Serve cold with ouzo or wine.
Ingredients
500 grams little fish
Garlic cloves
Vinegar
Olive oil
Some parsley sprigs, finely chopped
Thick salt