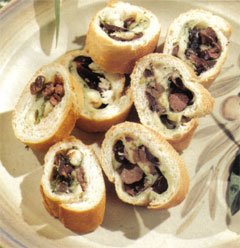 Little breads stuffed with olives
Directions
Dissolve the yeast in lukewarm water and mix with the sugar. Cover with a towel and let the mixture still for 15 minutes. Empty the yeast in a big bowl and add one egg, the flour, the salt and the olive oil. Mould the mixture until it becomes unified and elastic. Dredge over some flour and let the dough covered with a towel in a warm place for 1 hour in order to double its size.
Use a second bowl to mix the olives (cleaned and finely chopped), the parsley, the cheese and the almonds.
Roll out two filo sheets from the dough you have created. The thickness of the sheets should be approximately 2 cm.
Spread on their surface the olive and cheese mixture. Fold tight the filo sheets in order to make two cylinders.
Place the breads in a baking pan and cut them in thin slices. Allocate the slices in the baking pan, pour over them a beaten egg and cover them with aluminium foil.
Let them double their size for 25-30 minutes and then bake them for 25-30 minutes in 200 C.
Tip: Place non – sticking paper at the bottom of the baking to avoid burning of the breads.
Ingredients
4 tea cups white flour
115 gr yeast
1/2 tspn sugar
1 tspn salt
3 eggs
6 spoons olive oil
2 spoons almonds, cleaned and finely diced
1 tea cup cleaned olives (specific variety preferred, called "kalamon")
1 bunch parsley, finely diced
1 1/2 grated cheese. (Use a not to salty cheese. Prefer graviera or kefalotyri)