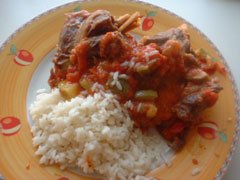 Lamb with zucchini and tomato
Directions
Wash the lamb servings and then drain them well.
Heat the oil in a large saucepan and sautee the lamb and the onions.
Then, add the tomatoes and some water and simmer for 45 minutes.
Cut the zucchini in small pieces and add them in the saucepan.
Then, boil the meat for some more time until the zucchini are tender, the water is absorbed and the lamb remains only with its oil and its sauce.
Ingredients
1,5 kg lamb, cut in servings
1,5 kg zucchini
2 onions, finely sliced
500 gr tomatoes (use canned tomatoes if fresh are not available)
80 gr oil
Salt
Pepper