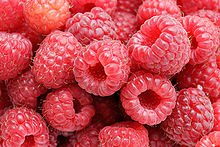 Greek frozen yogurt with raspberries
Raspberries are grown for the fresh fruit market and for commercial processing into individually quick frozen fruit, mashed, juice, or as dried fruit used in a variety of grocery products. In this recipe we mix greek strained yogurt with frozen raspberries to make up a tasty and healthy sweet that kids will appreciate for its taste.
Ingredients
500 grams strained yogurt (FAGE TOTAL or Olympos)
2 spoons honey
300 ml frozen red raspberries
Greek yogurt is becoming dominant in the food market and is considered nutritious and healthy. This is a dessert that our friend Leda managed to prepare during last summer by experimenting with some basic ingredients.
Directions
Freeze the raspberries overnight.
Next day mix all ingredients on a blender.
When mixture becomes smooth remove from blender and serve in individual bowls or small glasses of water.