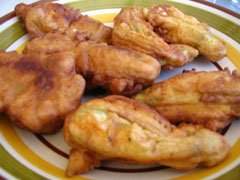 Fried stuffed zucchini blossoms
Directions
Grate the feta and ricotta cheese.
Add them into a bowl together with 2 of the eggs.
Add dill and pepper.
Mix all the ingredients well.
Mix the flour, the glass of water, the remaining egg and some salt.
Wash each zucchini well and fill it with one spoonful of the filling.
Dip one by one into the batter.
Fry the zucchini blossoms in both sides in hot olive oil.
Ingredients
20 – 25 zucchini blossoms
250 gr feta cheese
100 gr of ricotta cheese
3 eggs
salt
pepper
dill
olive oil for frying
500 gr flour
1 glass of water