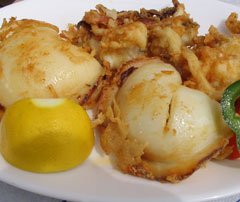 Fried cuttlefish
Directions
Chop the cuttlefish in pieces. Each tentacle should be cut in 2-3 pieces and the rest of the cuttlefish in stripes of 3 fingers wide. Remove the backbone, the skin and the eyes and wash all the pieces well.
Dredge with salt and pepper and let it drain. Coat the stripes with flour and fry in heated oil until soft. You should cover the frying pan because the cuttlefish spills a lot of oil.
When they take a golden color remove from frying pan and repeat the procedure with the tentacles.
Serve in a plate. Try them plain or pour some lemon juice on top if you like.
Ingredients
Cuttlefish (as much as you want to fry)
Flour for coating the cuttlefish pieces
Lemon
Oil for frying