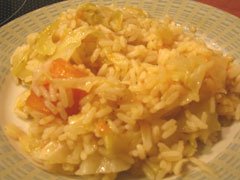 Cabbage Rice
Directions
Wash the cabbage and cut it in slices.
Use a medium size saucepan. Add the onion and saute oil. Add the slices of cabbage and stir.
Add 2 cups of water. Add the fresh tomato paste and stir again.
Cook for 10 minutes and then add the rice. Cook until the rice is ready and the water is absorbed. Add salt and pepper as you wish.
Cabbage rice is served either hot or cold with some lemon juice poured on top.
Ingredients
1 medium cabbage
1 teacup rice
olive oil
1 onion
3 fresh tomatoes, mashed
Lemon juice of one lemon
Salt
Pepper