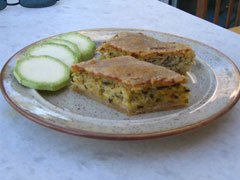 Zucchini pie with home made filo
Directions
Grind the zucchini and let them on a strainer to strain overnight.
Prepare the dough like in the traditional filo dough recipe.
Grate the feta cheese. Wash and chop the dill, the spring onions and the parsley. Beat the eggs and add them together with the grated feta cheese, the parsley, the dill and the spring onions into the bowl. Add salt and pepper as desired and work the mixture with your hands. Try to mix all ingredients well.
Oil a baking pan. Separate the dough in four even balls. Flatten each ball with a thin rolling pin on a floured pastry board and roll out to make four thin sheets of filo, two for the base and two for the top of the pie.
Place the first sheet in the baking pan and oil it. The sheet should come up above the top of the pan. Repeat the same procedure with the second filo sheet.
Spread the mixture on top of the two sheets and fold over the bottom filo sheets.
Place the remaining two sheets on top. Do not forget to oil each filo that you are spreading.
Slice off any parts of the sheets that have remained. Score the top sheet with a knife into squares. Bake for an hour in 180 C – 200 C.
Feta cheese is salty. Taste the mixture before you add extra salt.
Ingredients
1,5 kg zucchini
3 eggs
150 grams olive oil
250 grams feta cheese
Pepper
Salt
1 bunch of spring onions
1 bunch of dill
1 bunch of parsley
For the dough: Check the

traditional filo dough recipe

for the preparation of the home made filo sheets.