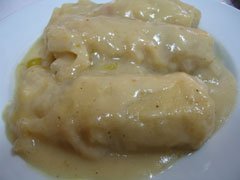 Stuffed cabbage leaves with rice and meat
Directions
Wash the cabbage and remove the root. In a large saucepan boil water and heat the cabbage. Carefully separate each leaf and drain. Remove, if possible, the hard stem from each leaf. Be careful not to damage them.
Place all ingredients in a saucepan, except from the eggs, the lemon and the olive oil, and boil for a while.
Use a tea spoon to count the appropriate portion of rice for each leaf.
Place on each leaf the mixture and then fold to make a little parcel.
At the bottom of a large saucepan place a few of the outer cabbage leaves and on top of them place the stuffed ones.
Pour water and the olive oil and cover with a plate.
Boil in low heat for 45 minutes.
Garnish with egg and lemon sauce. Use the remaining water for that purpose and follow the instructions of the egg and lemon sauce recipe, which can be found on the sauces section.
Serve lahanodolmades warm.
Ingredients
1 medium cabbage
3 onions, diced
200 grams rice for the stuffing
500 grams minced meat (preferably beef)
2 tomatoes, grated
100 grams pine seeds
Dill, finely chopped
Parsley, finely chopped
Salt
Pepper
150 grams lemon juice
2 eggs
250 grams olive oil