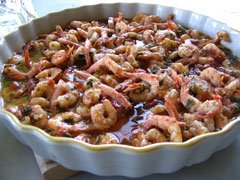 Greek Shrimp with Feta
Directions
Clean the shrimps by removing shell. Do not remove tail and head.
In a frying pan place the shrimps and let them fry in olive oil until golden. Then add garlic and onion. Add the wine after a couple of minutes. Finally, add tomatoes, tomato paste, salt and pepper and let the shrimps boil for 5 – 10 minutes.
Remove from heat, add feta cheese cut in cubes and garnish with parsley.
Serve hot.
Ingredients
1 kg shrimps
1/2 cup olive oil
250 gr small tomatoes, cut in cubes
1 spoon tomato paste
1 garlic clove, mashed
1 onion, finely chopped
1/2 glass white wine
1 spoon parsley, finely chopped
1 large piece of feta cheese
Salt
Pepper