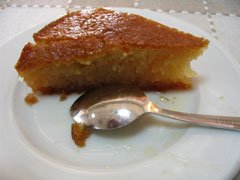 Semolina sweet
Directions
Preheat oven to 180 – 200 C.
Beat butter with sugar in a bowl until mixture gets white. Add yolks and vanilla and beat well. Mix almonds, lemon rind, semolina and baking powder.
Pour mixture into the bowl and mix with the rest of the ingredients.
Beat egg whites with lemon juice and salt until mixture becomes stiff.
Pour the merengue over the batter and mix well
Butter a baking pan and pour batter in it.
Bake until golden (30 – 40 min).
In the meantime prepare the syrup as follows: Bring syrup ingredients to a boil and then simmer for 10 minutes until syrup thickens. If you are using cinnamon stick then you need to waste it. Waste lemon rind as well.
Remove samali from oven, cut it in diamond or rectangle pieces and pour hot syrup over samali.
Bake for another 5 minutes until syrup is absorbed.
Remove from oven, let cool and serve.
Ingredients
1,5 cups coarse semolina
1 cup icing sugar
2 tspns baking powder
4 eggs, separated
1 tspn vanilla
Lemon rind
1 tspn lemon juice
Pinch of salt
1 cup butter
1 cup almonds, blanched and ground
Syrup
Ingredients
1 tbs ground cinnamon or 1 cinnamon stick
3 – 4 cloves
2,5 cups sugar
2 cups water
lemon rind
2 spoons brandy