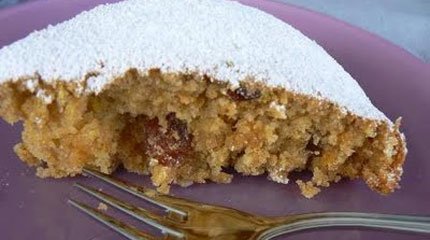 Fanouropita (Source: oitheitses.wordpress.com)
Directions
Use a mixer to beat the eggs with the glass of sugar.
In a large bowl mix the egg and sugar mixture with the rest of the ingredients (apart from the icing sugar and the flour).
Work the mixture with your hands and add gradually the flour.
Oil a baking pan (or a cake pan) and add the mixture.
Bake in medium temperature for 50-60 minutes.
Sift over icing sugar and cut in pieces.
Ingredients
1 glass olive oil
1 glass milk
1,5 glass sugar
1 tea spoon cinammon
1 spoon brandy
Some grated nutmeg
Thick slices of walnuts
600 gr self – raising flour
5 eggs
Icing sugar