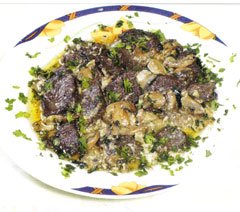 Ostrich with cream fresh
Directions
Cut the meat in thin stripes.
Use a saucepan and sauté the meat in oil.
Remove the meat from the saucepan and roast the onion and the mushrooms for about 5 minutes.
Place the meat back into the saucepan add salt, pepper, 3 cups of warm water and cover.
Simmer until the water is absorbed.
Beat the cream and mix with the meat. Stir until all ingredients are well mixed.
Garnish the ostrich with parsley and serve with pasta or potatoes.
Ingredients
1 kg ostrich steak
1 large onion, minced
1 packet cream fresh
1/4 cup oil
Salt
Pepper
Fresh mushrooms (or canned), sliced
Parsley