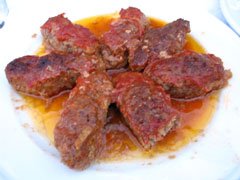 Minced Meat Rissoles with Cummin
Directions
Soak the bread in water for 10 minutes and discard the crust.
Squeeze the water from the bread and mix with the mince, egg, garlic, cumin, salt and pepper and 3 tablespoons of the wine. (The best results for mixing are always achieved by using your hands.)
When properly mixed make long thin shapes, like fat cigars, about the length of your finger (around 15 of them), roll them in the flour and fry in the vegetable oil on medium heat, making sure that they are crisp all over.
In the meantime, put the olive oil in a saucepan and, when it is warm, add the tomatoes and the rest of the wine and cook slowly for 5 minutes, stirring and making sure it does not stick.
Add the soutzoukakia as they come out of the frying pan, roll them in the tomato sauce, add a little more water if needed, cover and cook slowly for 10 minutes.
Garnish with chopped parsley.
With its rich sauce it can be served with plain white rice, or mashed potatoes as a main dish. It can also be a very good starter for a dinner party.
Serves 4 persons as a main course! Serves 7 persons as a starter, allowing 2 per person!
Ingredients
3 thick slices of bread, soaked in water
500 grams finely minced beef
1 egg
2-3 cloves garlic, peeled and crushed
2 teaspoons cumin
salt and pepper
1 glass white wine
30 gr. flour, for frying
3 tablespoons vegetable oil
2 tablespoons olive oil
3 tablespoons tomato puree or 1200 grams can tomatoes, liquidized roughly
Chopped parsley, to garnish