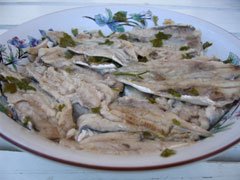 Marinated little fish
Directions
Wash the fish well. Remove heads, central bone and place the little fish fillets on a small glassy bowl.
Prepare the marinade by mixing all other ingredients.
Pour marinade over the fish fillets and place the bowl in the fridge.
When the fillets turn from a red to a white color then this is an indication that fish is ready.
This procedure can last up to 4 – 6 hours.
Ingredients
500 grams little fish (heads removed)
Juice of 6 lemons
2 parsley sticks
Thick salt
Olive oil
Some rose whole pepper