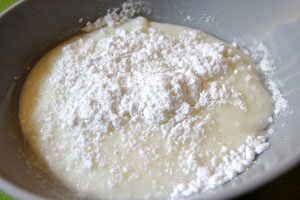 Malebi (source: www.toarkoudi.gr)
Directions
Dissolve the corn flour in a little water and add the milk.
Heat in a pot, stirring constantly with a wooden spoon until the mixture thickens.
Pour into a shallow dish to cool.
Cut into squares, sprinkling with rose water and icing sugar.
Serve with ice cream and fresh strawberries.
Ingredients
4 level tbsp. (60 ml) corn flour
4 c. (1 L) milk
Rose water, for garnish
Icing sugar, for garnish