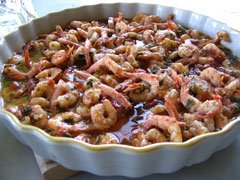 Greek Shrimp with Feta
Directions
Preheat the oven to 425 F.
Warm the oil in a nonreactive large skillet over medium heat. Add the onions and saute until a light golden brown, 7 min.
Add the parsley, garlic and sugar and stir to mix.
Add the tomatoes and cook until they soften and the liquid is absorbed, about 20 min.
Add the wine to the skillet and cook until the liquid is absorbed.
Add the shrimp and cook, stirring occasionally, for 30 seconds.
Remove from the heat.
Pour the shrimp and sauce into a 2 qt. casserole.
Top with the feta cheese.
Bake until the cheese melts, 5 min.
Ingredients
3 tbsp. olive oil
2 1/2 cups chopped onions
1/4 cup finely chopped fresh parsley
1 clove garlic, minced
1/2 tsp. sugar
3 cups chopped fresh plum tomatoes (about 1 1/2 lbs.)
1 cup dry white wine, preferably retsina (Greek resinated wine)
1 1/2 lbs. shrimp, peeled and deveined
1 cup crumbled feta cheese