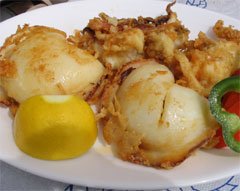 Fried cuttlefish with aromatic herbs
Directions
Wash and chop the cuttlefish in pieces. Remove the backbone, the skin and the eyes.
Coat the cuttlefish pieces in baking soda and let them stand for an hour.
Wash them well with plenty of water afterwards, in order to remove baking soda.
Mix garlic cloves, cumin and pepper and beat the mixture well using a blender, if one is available.
Mix the cuttlefish with the mixture and leave it marinated for at least two hours.
Coat cuttlefish in flour and fry. Cuttlefish can be served with 

garlic sauce

.
Ingredients
1 kg cuttlefish
2 garlic cloves
Pinch of cumin
Half green pepper
Some baking soda