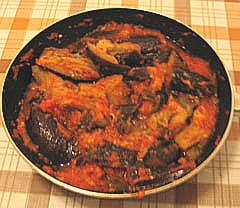 Eggplants with garlic and tomato
Directions
Fry eggplants in plenty of olive oil. Eggplants absorb plenty of oil. Fry until eggplants get brown and tender. Add water if you do not want to use too much oil.
In another saucepan heat olive oil (much less than the portion that you use for frying the eggplants) and add tomato mash and half of the garlic. Add salt and pepper for taste and bring to boil. Add eggplants into the saucepan and simmer for 10 minutes.
While you simmer the eggplants with the tomato and garlic whiz in a blender the vinegar with the rest of the garlic.
When eggplants are ready, remove from heat and pour the vinegar and garlic mixture over them.
Season eggplants with oregano and stir them well. Cut some medium size pieces of cheese and add into the saucepan.
Let cool and serve.
Ingredients
4 large round eggplants, cut along side in pieces
4 tomatoes, mashed
6 garlic cloves, mashed in a mortar or with a fork
50 ml vinegar
Salt
Pepper
Oregano
Cheese (ladotyri from Zakynthos should be used. Use a slightly piquant cheese if ladotyri cannot be found)
Olive oil