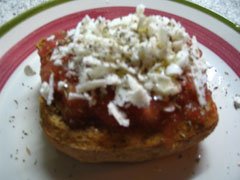 This the demonstration of the famous Cretan Salad
Dakos
. This is version is a simplified one and demonstrates the preparation of one rusk. Mind that you can soak the rusk in water to make it softer. If you soak it for long time it will become too soft and the outcome won't be nice.
Step 1: Take a barley rusk. 
Step 2: Skin off one tomato. 
Step 3: Grate the tomato. 
Step 4: Place the tomato on top of the rusk. Pour a spoon of olive oil. Tomato and oil will soak the rusk 
Step 5: Pour on top of the tomato some crumbled feta cheese or mitzithra cheese.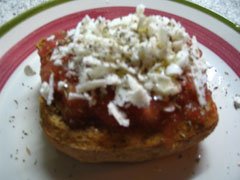 Step 6: Sprinkle with oregano and serve.