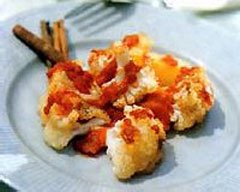 Cauliflower in tomato sauce
Directions
Wash the cauliflower, remove the stems and cut it in pieces.
Use a saucepan to prepare the sauce for the cauliflower. Wash and mash the tomatoes. Peel and chop the onions. Add the olive oil into the saucepan together with the tomato mash, the onions the cinnamon, the sugar, salt and pepper. Stir the mixture and let the sauce boil.
When it boils put the cauliflower and let it simmer until the sauce thickens and the cauliflower is tender.
Cool and serve.
Ingredients
1 kg cauliflower
1/2 cup olive oil
3 onions
10 tomatoes
sugar
cinamon
salt
pepper