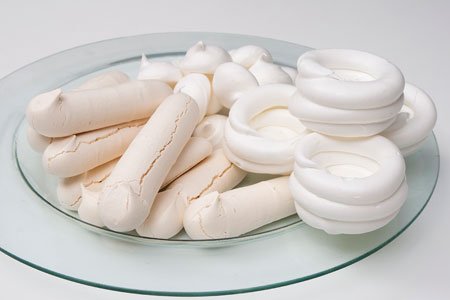 bezedes (source: gefceis.blogspot.com)
Directions
Boil sugar, water, and lemon juice together to make a thick syrup, but do not let it caramelize. Remove from heat and keep hot.
Beat egg whites until stiff, and add hot syrup slowly to them, beating constantly.
Fold in the confectioner's sugar and vanilla, blending well.
Butter and lightly flour a piece of waxed paper and place on baking sheet.
Drop batter teaspoons or force thru cookie press onto sheet and bake in preheated 350 F. oven for 20 to 25 min.
Remove from oven, cool and place on a platter.
Ingredients
2 cups sugar
1/2 cup water
1 cup confectioner's sugar
1 teaspoon lemon juice
4 egg whites
1 teaspoon vanilla