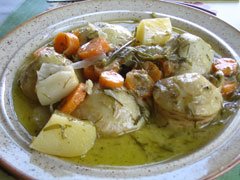 Artichokes a la polita
Directions
Slice the stem of the artichokes and remove the outer leaves. Leave only the tender leaves. Rub each artichoke with the lemon and put all of them in bowl full of water.
Cut the potatoes and the spring onions in medium sized slices. Slice the carrots and saute them together with the spring onions in a saucepan with the oil.
Add the artichokes and the potatoes, the dill, the lemon juice, salt, pepper and enough water to cover them. Allow to cook, stirring occasionally, for 1 1/2 hour.
If you want the "sauce" to be thick, you can mix a small teaspoon of cornflour in 1/4 cup (60 ml) water, add it and allow it to cook for another 5 minutes.
Ingredients
8 artichokes
1/2 kilo potatoes
5 carrots
juice from 2-3 lemons
4 spring onions
1 cup of olive oil
1 bunch of fresh dill or 3 tablespoons dried dill
salt
pepper