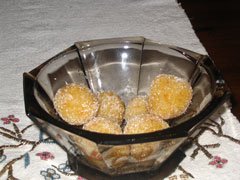 Almond sweets with tangerine
Directions
Rinse the tangerines, peel them and boil the tangerine peel for 5 minutes in order to soften it.
Then place gradually the peels in a blender and grate them until they become a pulp.
Mix sugar, with almond kernel and tangerine pulp well and mould mixture in small balls.
Roll the almond balls in sugar in order to coat each ball with the sugar.
Serve!
Note: Blanched almond kernel can be found in food stores. If not found, buy almonds, boil them in order to soften the peel and peel them. Then grate them with a blender.
Ingredients
600 grams blanched almond kernel
3/4 cup of sugar
3/4 kg tangerines
Some extra sugar for coating