Archive for May, 2014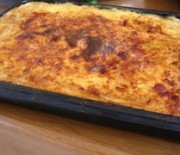 A traditional Greek Recipe by Alexandra Tsakiridou.
Moussaka is the shepherds pie of Greece. The succulent combination of fried aubergines, delicately spiced minced lamb and rich cheese sauce is irresistible and well worth the rather lengthy preparation. It is always popular at informal parties and can be prepared earlier in the day for final cooking and browning in the oven.